Introduction: When any kind of dust or air pollution is there, we start coughing, our body tries to expel it back by coughing. But if coughing happens on a regular basis then it is a matter of concern and immediate action is required on it. A cough may be due to allergies, infection, and a disease called pneumonia. A cough helps to keep our throat clean from all kinds of irritations. Some natural remedies for acough are as under:
Honey– It acts as a magic remedy for a cough, for treating cough mix honey with warm water and herbal tea. Honey acts as a soothing agent on cough and lemon is helpful in getting rid of congestion.
Probiotics– Probiotics does not help in proving relief directly. It helps to improve the balance of our intestines, which assists in supporting the immune system/
Peppermint-Peppermint is a healing agent and helps in providing a soothing effect on the throat. By drinking peppermint tea or by taking steam from vapors of peppermint. To make steam bath take three to four drops of peppermint oil
Thyme-Thyme is beneficial for respiratory diseases. The leaves of the thyme help the throat muscles to rest and relax. Thyme tea is very beneficial for providing relief from a cough. In a boiling water add two teaspoons of crushed thyme leaves for ten minutes.
Salt and water – Salt and water soot hens the throat and provides relief. Mix one -fourth teaspoon of salt with one glass of warm water. Gargle with the water salt mixture.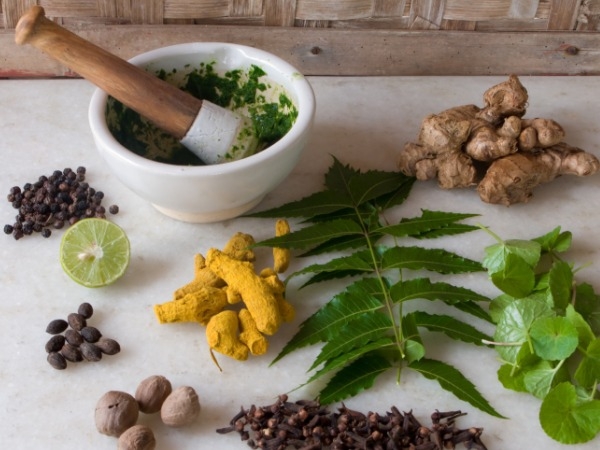 Fresh Ginger- Ginger has an anti-inflammatory factor which helps in curing cough. It provides relief. Mix a teaspoon of ginger with a spoon of honey. Ginger tea is another option for cough relief. Boiling a piece of ginger in water for five minutes, taking a sip of ginger tea provides a lot of comforts.
Lemon and honey– Mix a teaspoon of honey with a spoon of lemon in water and boil it for several minutes. Lemon and honey drink helps the throat to relax and provides relief ina cough.
Dry Ginger and pepper– The combination of dry ginger and pepper is a remedy for a cough. A Powder mixture of dry ginger and pepper and mix with half a teaspoon of honey and put the combination on the tongue.
Turmeric Milk– Turmeric is an Ayurvedic method to provide relief from a cough. It has an anti-inflammatory property which helps in fighting against bacteria. Add two teaspoons of turmeric in a cup of milk and take two times in a day.
Conclusion– Coughing mostly increases at night, because at night when we lie down mucus drops down from the nose to the throat causing coughing. Sleeping at a higher place can help in reducing coughing and providing relief. Coughing is the most familiar health problem; it could be due to infections, smoking, and health issues. It could get cured with the help of natural ingredients.
About The Author:
The write-up has been covered by a senior writer 'Angela Christensen' at thefogut.com who is writing explicitly since past 3 years. She has the passion to learn the latest trends of online marketing and share the relevant information through his articles. She is himself an experienced blogger who is well aware of Google updates and SEO techniques. Her articles always consist of great strategies and tips for the promotion of your online products and services. Her way of narration is highly engaging and interesting. You will easily connect to her blog and always wait for his next update.